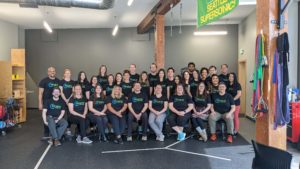 Ten years ago, we opened our doors to the Columbia City community with the goal of empowering patients to achieve better health and recovery through consistent one-on-one care. This month, we are excited to celebrate our ten year anniversary! 
Over the last ten years, we have grown from a staff of three to now 30 people on the Renew team! 
Since opening our doors in 2012, we have added to our services the Pelvic Health, Balance and Vestibular, Crash Care, SHIFT (personal training), Golf Rehab, Blood Flow Restriction, and Bike Fitting programs.
We have also expanded our footprint to serve new neighborhoods with the opening of the Beacon Hill clinic in August 2021, and our Renton location coming this spring!
We couldn't have done this without you and want to thank our hardworking staff, valued patients, referral sources, and the South Seattle community. Our highest priority will continue to be giving back to the communities in which we work by helping people get back to doing what they love.
In celebration of our anniversary, Renew Physical Therapy is hosting its fourth annual April Food Days donation drive. We are accepting non-perishable food items all month long (April 1 – 30, 2022) that will be donated to the Rainier Valley Food Bank. 
Items that are most helpful to donate are pasta and rice, canned proteins like tuna and chicken, non-perishable snacks, and diapers of any size.
We thank you for your contribution, and for your continued support.
Sincerely,
Erik Norwood
Physical Therapist & Owner