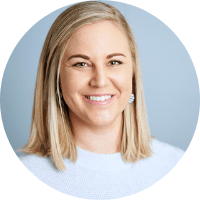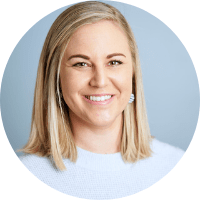 If you are a physical therapist or aspiring to become one, you know that finding the right job can be a challenge. It is not just about the salary, but also about the work environment, opportunities for growth, and work-life balance. At Renew Physical Therapy, we take pride in providing a career experience that gives our physical therapists a balance of all three of these attributes. 
Tana Chiarelli, PT, DPT, COMT at Renew Physical Therapy, shares some tips for what to look for in a physical therapy job.
Strong Mentorship
A physical therapy job should offer strong mentorship, especially if you are a newer clinician in the field. A mentor can be someone who has more work experience in the field and can guide you through potential challenges you may face. Mentors can give you insights into the work environment and offer advice as you adjust to this new professional field. A strong mentor relationship also allows for dedicated one-on-one time where manual skills can be honed, exam techniques improved, and clinical reasoning for difficult cases discussed. Renew Physical Therapy offers a robust mentorship program that helps match new hires with more experienced physical therapists on our team. We are lucky to have therapists across the experience spectrum in our clinics, ranging from 1-25 years in the field!
Opportunity for Growth
Physical therapy involves continuous learning to keep up with advancements in technology and the changing healthcare industry. Look for a position that offers opportunities for growth. This may include attending conferences, trainings, and workshops, or working alongside other advanced physical therapists, all of which contribute to your professional development. 
The continuing education program at Renew Physical Therapy is unlimited, offering our team of physical therapists the chance to pursue post-graduate certifications and specialty skills training.
Supportive Work Environment
The work environment can impact your job satisfaction, which can impact patient care. A supportive work environment should motivate and inspire you to put your best foot forward. Look for a workplace culture that values teamwork, empathy, communication, respect, and recognition. 
At Renew Physical Therapy, we are a close-knit team. We listen to, respect, and offer a helping hand to each other. We communicate freely and honestly, and employee feedback is always met with consideration and a goal towards collaboration. We also value the communities in which we work. Our neighborhood relationships reflect the friendship and respect we enjoy with our fellow residents. 
Competitive Pay and Benefits
There is no question that you will also want a job that offers competitive pay and benefits. Compensations may include healthcare coverage, retirement plans, sick leave, disability insurance, and other bonuses. It is essential to research what the physical therapy industry offers before accepting a job. 
Renew Physical Therapy offers competitive pay and a comprehensive benefits package to employees on our team.
Flexible Work Schedule
In addition to a formalized salary/benefits package, having autonomy over your time provides a priceless advantage. A flexible work schedule enables you to balance your personal and professional life as it works for you. A physical therapy career often requires long and busy hours, which can take a toll on your health and well-being and contribute greatly to burnout. A job that offers flexible scheduling can help you manage yourself in a healthy way, while advancing your career. 
Renew Physical Therapy offers flexible scheduling for our physical therapists. Each clinician works to set up their ideal weekly schedule and can modify this schedule as different needs arise.
Opportunity to Make a Difference
You may be looking for a position that allows you to make a difference in people's lives. As a physical therapist, you will work with individuals to overcome their physical limitations and improve their quality of life. A job that offers such opportunities can be fulfilling and inspiring. 
At Renew Physical Therapy, we look forward to building relationships with our patients and we take pride in helping them get back to doing what they love. We also engage in community-building events including food drives, neighborhood clean-ups, and partnerships with other local businesses. 
Finding the right physical therapy job requires careful consideration of your priorities, interests, and career goals. Consider these tips as you search for a physical therapy job that is both fulfilling and rewarding. Renew Physical Therapy is currently hiring physical therapists at all three of our locations in Columbia City, Beacon Hill, and Renton. If you are interested in applying or learning more, please visit our careers page.
Author: Tana Chiarelli, PT, DPT, COMT