Erik Norwood MSPT
Physical Therapist & Owner

Meet Erik
Erik has been in the field of physical therapy and the out-patient orthopedic setting since 1999. He has experience treating injured athletes, weekend warriors, post-surgical patients, cross-fit athletes, and patients who've suffered injuries from car and work related accidents. He started his own practice in 2007 and partnered with Spine Rehab Associates in 2010. SRA offers a multi-disciplinary approach to treating muscular skeletal injuries with physical therapy, chiropractic, massage and medical services. In 2012 Erik's business expanded to the Columbia City neighborhood of South East Seattle where he opened Renew Physical Therapy. In addition to working in clinical settings, he has worked with companies like Costco and Pierce Transit to help treat and prevent work-related injuries. Erik earned his Master's of Science in Physical Therapy from Columbia University, his undergraduate degree in Biology from Tufts University, is a Certified Associate Ergonomist and a member of the APTA.
Erik grew up in Massachusetts and moved to Washington in 2002. He resides in Seattle with his wife and two daughters. In his spare time he enjoys being with his family and friends, watching and playing lacrosse, boxing, CrossFit, and spending time in outdoor activities.
Joseph Lirette PT, OCS, CMPT
Physical Therapist & Clinical Manager

Meet Joe
Joe received his Physical Therapy degree in 2000 from the University of Washington and has practiced in Seattle for well over a decade. He has experience treating a variety of conditions from elderly patients with balance impairments to high level athletes with a myriad of orthopedic issues. Over the last three years, Joe has also worked closely with CrossFit athletes in biomechanics, mobility, and injury prevention.
In 2008 he became board certified as an Orthopedic Clinical Specialist (OCS) from the American Physical Therapy Association and has studied extensively with the North American Institute of Orthopedic and Manual Physical Therapy (NAIOMT). Further sharpening his diagnostic and treatment skills, Joe earned his Certified Manual Physical Therapist (CMPT) credentials in 2016. His treatment philosophy is to collaborate with the patient to help identify the root cause of their dysfunction. He treats with a combination of hands on therapy, exercise, and education, teaching the patient every step of the way to prevent re-injury. Outside of work he enjoys guitar, physical fitness, soccer, and golf.
Megan Wong PT
Physical Therapist

Meet Megan
Megan is a native of Seattle, WA and has worked primarily in the outpatient orthopedic setting since she graduated from University of Washington in 1998. She finds it important to perform a detailed examination and evaluation of each person in order to individualize treatments, as well as to address the source of the pain and/or dysfunction. She has a strong interest in manual therapy and incorporates its various techniques to facilitate the recovery process along with therapeutic exercises and movement re-education. Megan is an active listener and enjoys helping patients achieve their goals.
Outside of work, Megan often spends time with family and friends. She really enjoys going for walks, being outdoors, dancing and movies. When there is spare time, she often chooses to read various non-fictional subject matter as part of her ongoing interest in learning.
Sarah Benditt PT, DPT
Physical Therapist

Meet Sarah
Sarah is a Seattle native and graduated with her Doctorate in Physical Therapy from the University of Washington.
She has experience working with patients with a wide range of orthopedic conditions, from post-operative care to work and sports-related injuries. She has additional specialized training in pelvic floor rehabilitation for individuals with pelvic pain, incontinence, and pelvic floor muscle dysfunction. Her treatment philosophy blends exercise, manual therapy, and education regarding optimal body mechanics to prevent future injury. Her goal is to help patients find the tools to take control of their own muskuloskeletal health.​
Outside of work, Sarah enjoys playing ultimate frisbee, riding her bike, and listening to music.
Matthew Godofsky PT, DPT
Physical Therapist

Meet Mathew
Matt, a new resident to Seattle, graduated with his Doctorate in Physical Therapy from Northwestern University. He has a Bachelor's of Science degree in Rehabilitation Psychology from the University of Wisconsin-Madison. Matt is proficient in working with patients with a wide range of orthopedic and neurological impairments including low back pain, cervical whiplash, post concussive syndrome, shoulder impingement, pre-and post-surgical care, complex ankle and foot injuries, and elite athlete rehabilitation. He also has a strong interest in evaluating and treating balance, dizziness, and vestibular disorders including Benign Paroxysmal Positional Vertigo (BPPV). Matt stresses the importance of patient education and utilizes current evidence based practice to address each patient's specific needs to reach their goals.
When he isn't working, Matt enjoys attending both professional and collegiate sporting events, traveling, and exploring the restaurant scene in his new city.
Zahra Young, PT, DPT
Physical Therapist

Meet Zahra
Zahra is a Seattle native who grew up in the Seward Park neighborhood.  She completed her undergraduate degree at Western Washington University and earned a Doctor of Physical Therapy from the University of Puget Sound in 2007.  Zahra has worked in the greater Seattle area for over 10 years and has extensive experience treating diverse populations in the outpatient orthopedic setting.  Along with truly listening to her patients, Zahra utilizes a combination of manual therapy skills and functional exercise prescription to best address her patients' needs.  Her treatment objective is to help patients return to full sports activity and to reach their physical life goals.  Zahra is comfortable treating a wide range of diagnostic ailments, sports-related injuries, pre and post-operative care, low back pain, neck pain, work injuries, and injuries suffering from auto accidents. 
 In her free time, Zahra enjoys playing rugby with the Seattle Rugby Club, weightlifting, snowboarding, and knitting.
Tana Chiarelli, PT, DPT
Physical Therapist

Meet Tana
Tana grew up in California, and received her Bachelor's Degree in psychology from the University of Washington, home of the Huskies. She earned her Doctorate of Physical Therapy from George Washington University in Washington, D.C. and returned to Seattle to start her career.
As a professional, Tana enjoys treating patients with a range of neurological and orthopedic conditions. She has experience working with pre- and post-operative patients, and patients injured at work or in auto accidents.  Tana has worked with athletes at all levels of experience, from students to elite professionals. She also has experience treating degenerative neurological disorders, like Parkinson's, Multiple Sclerosis, brain tumor, and balance impairments. Tana uses techniques found in neurological and orthopedic care to achieve optimal patient posture, stability, and movement. Because education is important, she believes in taking time to explain the conditions her patients are experiencing.
Tana's treatment philosophy focuses on utilizing manual techniques to restore joint and soft tissue mobility.  She uses function exercise prescription to strengthen and improve postural stability. She teaches patients how to develop better body mechanics and movement patterns to prevent reinjury. Tana believes that the optimal outcome for any patient should be the complete ownership over their condition, and the understanding of the tools provided to manage their symptoms.
In her free time, Tana loves to do all things PNW.  She and her husband can be found walking at Green Lake, exploring a new brewery with friends, or rooting on their beloved Huskies, Seahawks, and Mariners.
Erin Peterson, PT, DPT
Physical Therapist

Meet Erin
Erin joined Renew Physical Therapy in July of 2018.  She is very excited to be working in her neighborhood and community.  She graduated from the University of Puget Sound in 2003 with a Doctorate in Physical Therapy and has been working in outpatient clinics in the Seattle area ever since.
To address the specific goals and unique needs of her patients, Erin uses a combination of patient education, corrective exercise, and manual therapy.  She has experience working with pre and post operative patients including joint replacements, injured athletes, shoulder, hip and ankle injuries, postural dysfunctions, work injuries and many other orthopedic limitations. She looks at the whole person not just the injured area to create the best results.
When Erin isn't improving the well-being and lives of her patients, she can be seen on ESPN or the PAC 12 network as a division I NCAA softball umpire.  She also enjoys spending time walking Seward Park with her family.
Lydia Christianson, PT, DPT, OCS
Physical Therapist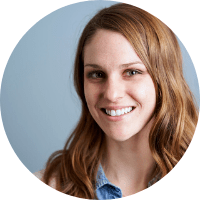 Meet Lydia
Lydia Christianson graduated from Marquette University in Milwaukee, Wisconsin in 2014 with a Doctorate in Physical Therapy. During Physical Therapy school, she spent time in Seattle as a Physical Therapist intern, and was quickly convinced that the Pacific Northwest was the right place for her. After moving to Seattle, she completed an orthopedic residency program in 2015 and became board certified as an Orthopedic Clinical Specialist (OCS) in 2017. In 2018 she completed a Therapeutic Pain Science certification through the International Spine and Pain Institute (ISPI) for the treatment of chronic pain conditions. She enjoys treating a variety of orthopedic conditions and specializes in the treatment of chronic pain, nerve dysfunction, vertigo and dizziness.
In her spare time, Lydia enjoys hiking, camping, and exploring the beautiful scenery this area has to offer. If she's not outdoors, you can find her at home reading or binging on her latest Netflix addiction. 
Lynn Dettinger PTA
Physical Therapy Assistant

Meet Lynn
Lynn has been a Hillman City resident for more than 20 years. She graduated from Whatcom Community College's Physical Therapy Assistant (PTA) program in 2012. She has worked in Seattle area outpatient clinics since 2012 and began working at Renew in June, 2017. Lynn's interest in physical therapy grew out of the success she had rehabbing her own sports injuries as a patient.
As a PTA, Lynn treats patients with manual therapy and therapeutic exercises based on the physical therapist's evaluation and plan of care. She enjoys providing patient education about her clients' injuries and body awareness as well as helping them gain strength and mobility.
Outside of work, Lynn spends her mornings rowing on Lake Union and Lake Washington. She spends many of her weekends hiking, bicycling, or skiing in the North Cascades and the Methow Valley with her husband Eric.
Candice Scellato, PTA
Physical Therapy Assistant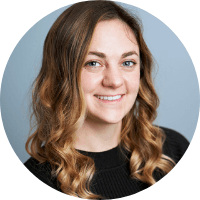 Meet Candice
Candice Scalleto is a Physical Therapist Assistant.  She has a Bachelor of Science degree from Pima Medical Institute. Candice has worked in outpatient physical therapy clinics since 2014 and over the last five years, she has developed a wide range of skills that help her to tailor and individualize treatments to her patient's goals and lifestyle. Candice's treatment approach is to first help patients to truly understand the nature of their injuries, and then guide them to treat their symptoms and prevent reinjury. She uses a combination of manual techniques, neuro-muscular retraining, strengthening, stretching, and breathing techniques. She has a special interest in the techniques taught by the Postural Restoration Institute.
Candice is a Seattle native and enjoys doing water sports and snowboarding.  She also enjoys being home and trying out new recipes.
Lidiya Hardy
Office Director

Meet Lidiya
Lidiya is the office manager and has been with the Renew Team since 2012.  Along with managing the day to day duties of the clinic, she strives to ensure patients have everything they need to remain informed and prepared for their treatment.
Lidiya is very family oriented, so when she's not working she enjoys spending time with her family and friends.
Lana Aquino
Billing Manager

Meet Lana
Lana is a billing and collections specialist and has worked in the field since 2011.  She joined the Renew Team in October 2016.  She enjoys her work and especially likes helping patients navigate their insurance.
Outside of work she loves rough-housing with her 5 children and spending time with her family and friends.
Sharonda Young
Billing & Collections Specialist

Meet Sharonda
Sharonda started working with Renew Physical Therapy in March 2018.  Since 2003 she's provided various forms of excellent customer service and in 2015 she branched out into the medical field.  Sharonda enjoys working at Renew Physical Therapy because "Renew creates strong bodies".  With over 30 years of experience as a dancer, she believes that strong bodies can do anything!
In her spare time, Sharonda enjoys dancing with a local dance company, reading a good book in the sun, and being competitive.
Jensine Ramirez
Billing & Collections Assistant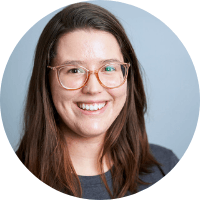 Meet Jensine
Jensine Ramirez is a Washington native, and recently moved to the Rainier Beach neighborhood. She graduated with an Associate of Arts degree from Renton Technical College and intends to attend university to study computer science. At Renew she works as a Billing Specialist.  Her duties include, verifying patients' insurance, helping patients with billing related questions, obtaining authorizations for treatment and submitting claims.
In her free time, Jensine enjoys reading, watching movies, cooking and taking care of her furry little friends.  She has two pet rats, Shivers and Scabbers, and two pet gerbils, Gandalf the White and Gandalf the Grey.
Laura Ramirez
Lead Front Desk Coordinator

Meet Laura
Laura has worked with Renew Physical Therapy since 2016.  She is grateful to have found not just a company to work for, but, an "AWESOME second family".  She looks forward to seeing co-workers and patients every day.  When Laura is not at work she loves spending time with family and friends, watching football and she, especially enjoys, watching her daughter play baseball.  Laura's weakness is Vampire shows and movies. If you don't see her at work, you can most likely spot her in the world of "Azeroth battling off the Legion". (A World of Warcraft reference…. she's a nerd at heart.)
Lelisa Talley
Front Desk Coordinator

Meet Lelisa
Lelisa has had the pleasure of working in the medical field as a patient service representative and front desk coordinator for over 10 years and counting.  She truly enjoys working at Renew Physical Therapy, "because it feels like a family".  Lelisa looks forward to offering sincere and individualized care to each patient as well as working and growing with the Renew team for many more years.
When she's not working, Lelisa enjoys spending quality time with her family, gardening, cooking and taking long walks with her two dogs.
Nancy Siu
Front Desk Coordinator

Meet Nancy
Nancy joined Renew as a front desk Coordinator in August 2018. She has been in similar positions at various medical practices including an acupuncture and naturopathic clinic since 2012.  She has experience working in various medical practices including an acupuncture and naturopathic clinic. Nancy enjoys learning about the different treatment practices and the benefits of addressing the whole body.
In her free time, she enjoys crafting, creating and catching Pokémon in the wild!
Stephanie Cabillin
Patient Care Coordinator

Meet Stephanie
Stephanie was born and raised in the PNW where she's lived her whole life.  She has lived in the Seattle area since 1999 and enjoys spending time creating memories with her loved ones.  She obtained her BA at Western Washington University in Sociology with an emphasis in childhood trauma and childcare.  Stephanie has been in the Physical Therapy and healthcare fields for nearly 20 years, where she's been an Office Manager, Patient Service Specialist, Insurance Coordinator and finally, Marketing and Public Relations.  One of Stephanie's passions is working with and helping others, from patients to colleagues to family and friends.  Hobbies include:  knitting, singing, cooking/baking, and travelling.
Hannah Bashevkin
Physical Therapist Aide

Meet Hannah
Hannah Bashevkin is a recent graduate of Whitman College in Eastern Washington, where she earned her Bachelor of Arts in Sociology. She recently transitioned from her career in the wine industry to the healthcare industry and works as a physical therapist aide. At Renew she is gaining experience in the field and has started to take the necessary steps to apply to Physical Therapy school.
Hannah grew up in Berkeley, California and moved to Washington to attend Whitman College.
After graduation she and her partner moved to Seattle and now live together with their dog, Lucy. In her spare time Hannah enjoys coaching lacrosse for young girls and going on walks around the neighborhood.
Carina Saengchan
Physical Therapy Aide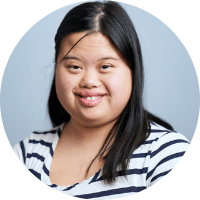 Meet Carina
Carina has lived in Seattle her whole life. Her favorite thing to do at Renew is the laundry and interacting with coworkers.  Carina enjoys listening to music and playing video games with her sister. She also loves playing with her dog Maui.