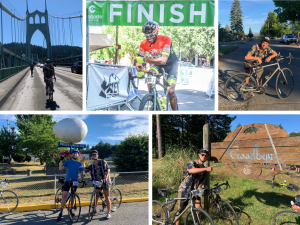 As summer graces the city of Seattle, we find ourselves basking in the afterglow of last month's exhilarating Seattle to Portland Bike Ride event. We are proud to share that our very own Brent Wong, PT, DPT, COMT at Renew Physical Therapy in Columbia City, took part in the event. One of our dedicated patients, Lewis Rudd, also participated. It was truly a testament to the spirit of perseverance and the power of physical well-being that we uphold at Renew Physical Therapy!
Thinking of Brent and Lewis pedaling their way through the landscapes of the Pacific Northwest has reaffirmed our commitment to helping our community lead active, healthy lives. Renew Physical Therapy takes immense pride in supporting each of you on your unique wellness journeys, and moments like these remind us why we do what we do.
In this month's issue, we will dive into the importance of proper biking mechanics and explore common injuries experienced by cyclists. Whether you're a new or seasoned rider, our aim is to equip you with valuable tips to better your biking experience and minimize the risk of injuries. Renew Physical Therapy's Bike Fitting Program is tailored to address bike-related injuries and discomfort, providing personalized adjustments to ensure that your biking experience is both enjoyable and pain-free.
Wishing you all a happy August filled with adventures and wellness!
Sincerely,
Erik Norwood
Physical Therapist & Owner