Did you know that the human hand is made up of 27 bones, with eight of those bones being in the wrist (Hopkins Medicine)? If a single bone is injured, it can throw off the whole alignment of your hand, which can greatly impact your day-to-day activities. 
A motor vehicle accident is one incident that can cause trauma to your hands as a result of gripping the steering wheel, bracing yourself against the interior of your car, or making contact with the airbags or windshield during the point of collision.
Bone fractures, nerve damage, tendon tears, and ruptures are a few hand and wrist injuries one may  experience from a motor vehicle accident.
Renew Physical Therapy's Crash Care program applies manual therapy techniques, exercises, and education to help alleviate your hand and wrist pain. Below are three exercises we have shared with patients who suffered from hand and wrist pain after a car accident.
Before trying any of the below exercises, please consult with a Renew physical therapist to verify that these exercises are appropriate for your injury and treatment plan.
Make a Fist

: This exercise is just as it reads. Spread out your fingers and slowly form a ball creating a fist. Repeat this motion to improve the mobility of your hands.

Wrist Rolls

: Improve the range of motion in your wrist with this exercise. Form a fist, and rotate your wrist in a clockwise direction to make small circles with your fist. Continue this movement for 30 seconds before rolling your wrists in the opposite direction.

Hand Flips

: While seated, place your forearm and injured wrist on your thigh with your palm facing down. Flip your hand over so that the back of your hand is resting on your thigh with your palm facing up. Repeat this movement while keeping your forearm on your thigh.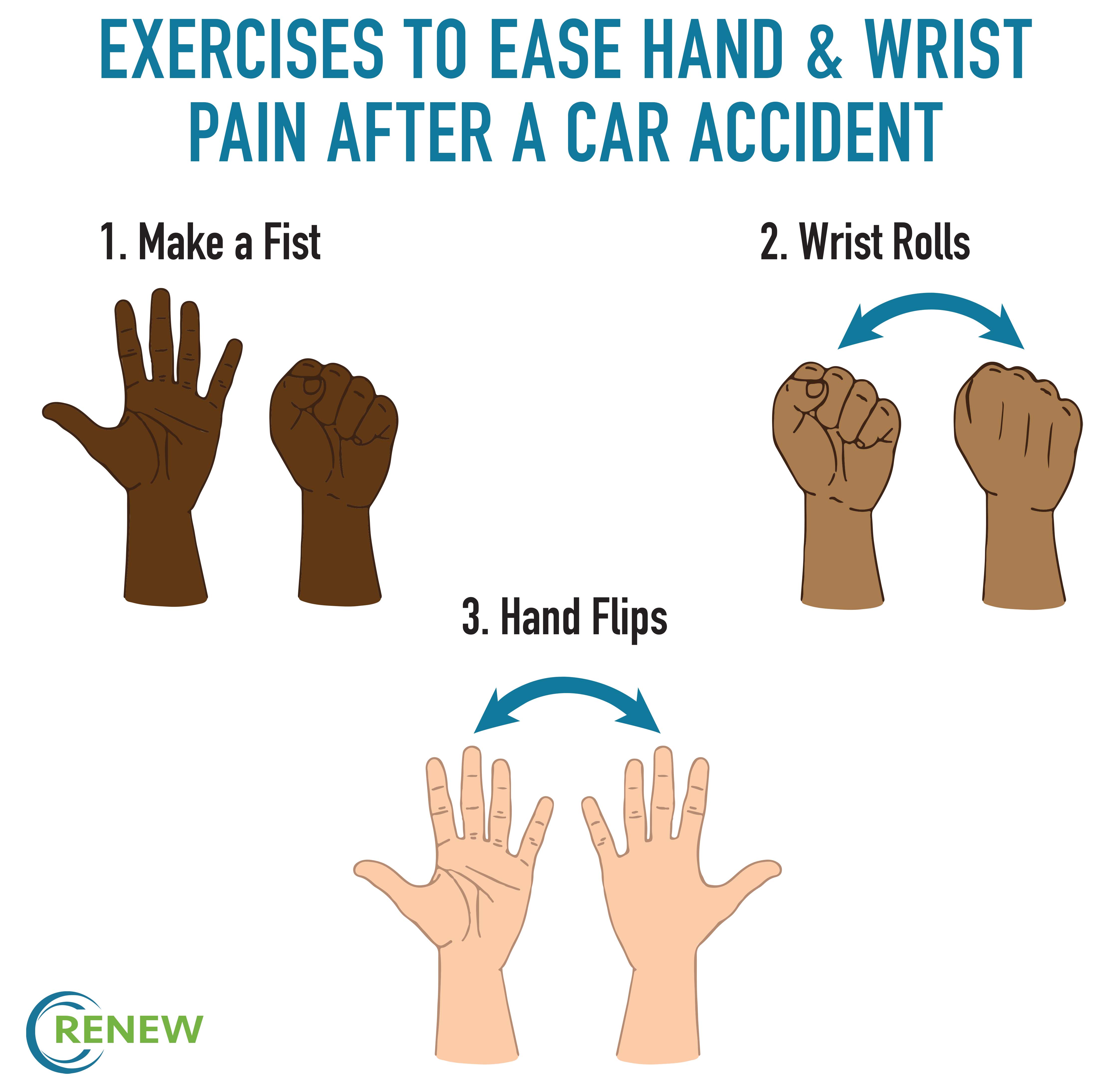 If you or someone you know has been in a car accident, contact Renew Physical Therapy to ask about our Crash Care program and let us help you get back to what you love.