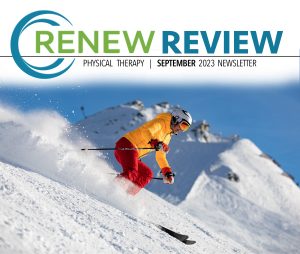 As we soon say good-bye to the warmth of summer, we're eager to begin fall and winter sports and activities! Whether you're gearing up for a season of snowboarding or skiing, football, volleyball, cross country, or soccer, Renew Physical Therapy is here to help you return to your favorite sports with our Return to Sport program, designed to help you transition back with personalized, one-on-one treatment.
At Renew Physical Therapy, we take great pride in our team's diverse expertise that caters to a wide array of physical needs. From recovering athletes to those seeking preventive care, our skilled physical therapists specialize in various areas to guide you on your wellness journey. As you prepare for your favorite fall and winter sports, Renew Physical Therapy is here to offer the support you need to perform at your best.
Also this month, we're excited to announce the expansion of our Renew Physical Therapy team! Let's give a warm welcome to our new team members: Chip Moran, PTA at the Renton clinic, Victor Scibona, PTA and Kijun Sung, PT, DPT at the Beacon Hill clinic, and Emily Anderson, PT at the Columbia City clinic.
Are you a passionate physical therapist looking to make a difference in people's lives? Renew Physical Therapy is actively seeking like-minded individuals to join our growing team! Submit your resume and apply on our website today.
Sincerely,
Erik Norwood
Physical Therapist & Owner