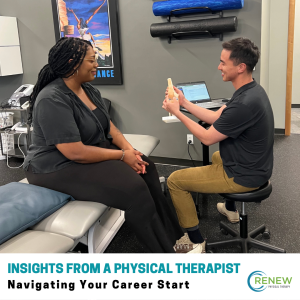 Are you a recent graduate who is looking to jump start your career in physical therapy? The clinic setting in which you begin your career plays a vital role in establishing your habits as a physical therapist. Brent Wong, PT, DPT, COMT with Renew Physical Therapy in Hillman City, sheds light on why Renew stands out as a great place to work.
Brent Wong, PT, DPT, COMT
Q: From which physical therapy program did you graduate? How long have you been with Renew Physical Therapy?
A: The University of Washington and Northwestern University. I have been with Renew for 2 years.
Q: What is one piece of advice for the new graduates as they begin job hunting this summer?
A: Find an environment where you can see yourself continuously learning. A large majority of your habits as a physical therapist will be established in this first clinic setting.
Q: What makes Renew Physical Therapy a great place to work?
A: Renew Physical Therapy has a great atmosphere that centers on serving the surrounding community. It also features a diversity of therapist skills and approaches that benefit both the therapists' learning and patients' progress.
Renew Physical Therapy is hiring now! Learn more about what it's like to be a part of our team, and submit your resume here.