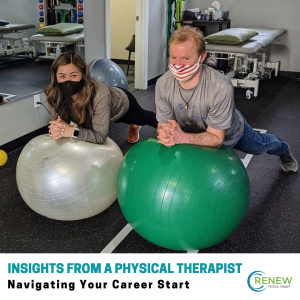 Curious about a physical therapist's journey and insights into the world of physical therapy? In this Q&A session, we sat down with physical therapist Cynthia Moore, PT, DPT who works at Renew Physical Therapy in Beacon Hill, as she shares her experience, advice for new graduates, and what makes Renew Physical Therapy an exceptional place to work. 
Cynthia Moore, PT, DPT 
Q: Where did you graduate from? And, how long have you been with Renew Physical Therapy? 
A: I graduated from Washington University in St. Louis. I have been with Renew Physical Therapy since January, 2022. 
Q: What is one piece of advice for the new graduates as they begin job hunting this summer? 
A: Being a semi-new grad (class of 2021), don't overthink your first physical therapy job. You can always try it out and see if it serves you as a clinician. You'll learn a lot about yourself as a provider and start to shape how you want to practice physical therapy. It'll be great! 
Q: What makes Renew Physical Therapy a great place to work? 
A: Renew Physical Therapy is a small business and everyone is always so willing to help. The one-on-one care is a HUGE plus! 
Are you considering joining the Renew Physical Therapy team? Submit your resume and apply now on our website here.