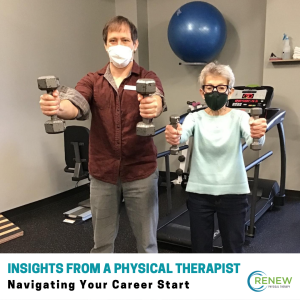 Are you embarking on a job hunting journey this summer? At Renew Physical Therapy, we pride ourselves on fostering an environment that encourages your professional evolution, embraces new ideas, and thrives on innovation. We sat down with Joe Lirette, physical therapist at Renew Physical Therapy in Hillman City, as he shares his advice for new grads seeking to start their professional career.
Joe Lirette, PT, OCS, COMT
Q: Where did you graduate from? And, how long have you been with Renew Physical Therapy?
A: The University of Washington. I have been with Renew Physical Therapy for 8.5 years.
Q: What is one piece of advice for the new graduates as they begin job hunting this summer?
A: Ask yourself, "Do you sense that your new employer prioritizes your clinical growth as a clinician ABOVE strict productivity standards?"
Q: What makes Renew Physical Therapy a great place to work?
A: What makes Renew Physical Therapy a great place to work is that it's an employer that is willing to help you find your passions within physical therapy, and is open minded to new ideas, treatment techniques, and innovations. It is also a family-like atmosphere with a collaborative clinical team.
Are you interested in working at Renew Physical Therapy or learning more about what it's like to be a part of our team? Apply now on our website and read more here.