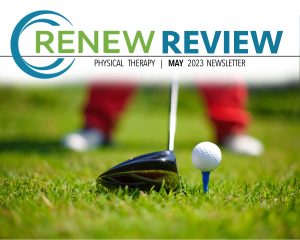 Spring is in full swing as we move into the month of May! We know many of you are gearing up for outdoor activities and sports, like running, hiking, and cycling. At Renew Physical Therapy, we are also excited to help you get back to doing the activities you love. We offer several specialized programs like our Return to Sport program for athletes returning to a sport after experiencing an injury, Bike Fitting for those who love cycling, and our Golf Rehab Program.
As the weather gets warmer and you begin to hit the golf course, Renew Physical Therapy wants to remind you of the importance of taking care of your body to avoid injuries and improve your game. If you're an avid golfer or just looking to enhance your performance, we've got you covered with the Golf Rehab Program at Renew Physical Therapy. 
Our team of experienced physical therapists will work with you to address any pain or discomfort you may be experiencing, and develop a customized plan to strengthen your skills to keep you pain-free on the course. With our individualized treatment plans, golf-specific exercises, and tips for injury prevention, you'll be hitting the greens in no time!
At Renew Physical Therapy, we are committed to helping you achieve your health and fitness goals, and we are excited to offer these specialized programs to help you get the most out of your spring season. We look forward to seeing you soon!
Sincerely,
Erik Norwood
Physical Therapist & Owner